Below are plants we plan to release on April 1. Some plants are in very limited supply. If you want a notification of when the inventory is updated, subscribe to the monthly newsletter. The signup form is down below.
As a reminder, make sure to redeem your Plant Points for a Rewards Coupon. You might want to have your coupon ready to go before we release these plants!

DARLINGTONIA
Darlingtonia californica - Flowering size!
DROSERA
D. Creamsicle
D. filiformis
D. intermedia
D. rotundifolia
D. Southern Cross
D. tracyi
VENUS FLYTRAP
Dente
King Henry
Red Dragon
Typical
SARRACENIA SEEDLINGS
Coming in June!

The Sarracenia listed below are second-season divisions, NOT fresh divisions. Fresh divisions grow inconsistently. In most cases, they produce smaller pitchers in the first season. During their second season, they often reach their potential height because they have healed from the dividing process. So, you get a more vigorous plant with a second-season division.

SARRACENIA SPECIES
S. alata, Mixed Forms
S. alata, Dark
S. alata, Red Hood
S. flava atropurpurea
S. flava Chasm
S. flava cuprea, Giant (AKA Towering Inferno)
S. flava (Founder's Flava)
S. flava maxima
S. flava ornata, Bulloch County
S. flava rubricorpora
S. leucophylla, Mixed Forms
S. leucophylla, Firebird
S. leucophylla, Green AF
S. leucophylla, HWC Clone A x Clone F
S. leucophylla, JuJu
S. leucophylla, Lil' Big Mouth
S. leucophylla, Schnell's Ghost
S. leucophylla, Tarnok
S. minor
S. psittacina
S. rubra gulfensis
S rubra (gulfensis x jonesii)
S. rubra rubra
SARRACENIA HYBRIDS
S. Adrian Slack
S. alata x minor
S. Art's Surprise
S. Barry
S. Black Widow
S. Cateo
S. Citron EX
S. Daina's Delight
S. Don's Flava
S. flava x oreophila, Heavy Vein
S. Fledgling
S. Extreme Green
S. Funky Flower
S. Garnet Rose
S. Golden-Red Jubilee
S. Ladies in Waiting
S. Leah Wilkerson
S. Mardi Gras
S. Nadine
S. Northern Cortii
S. oreophila x Royal Ruby
S. Red Sumatra
S. Reptilian Rose
S. Stands Out in a Crowd
S. White Sparkler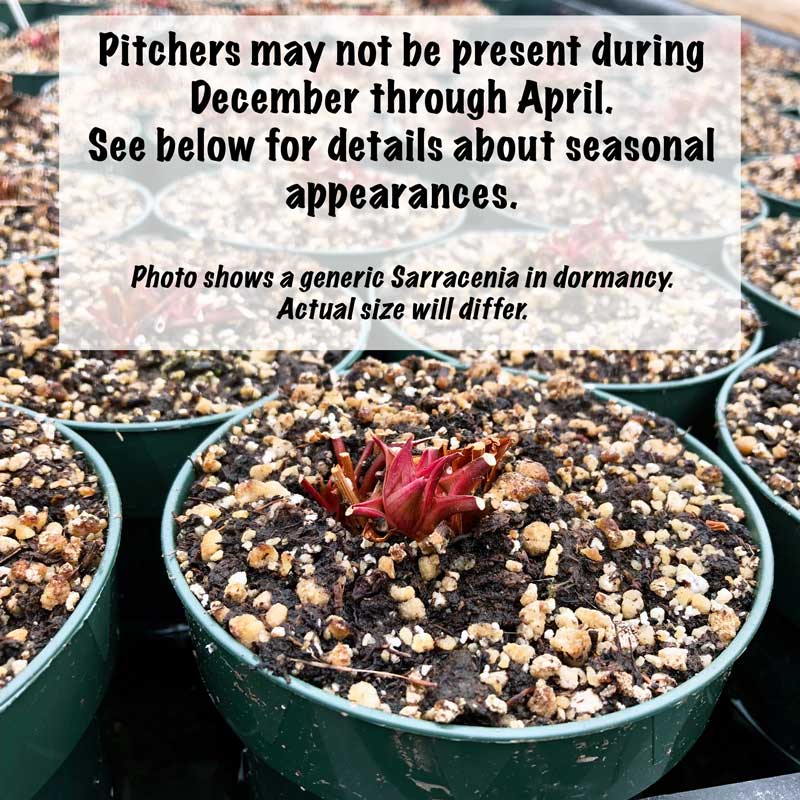 All outdoor perennials are grown outdoors at our nursery in Oregon and experience seasonal changes.
January-March: Plant is dormant with no pitchers.
April: Spring growth will appear by the end of the month.
May: Fully developed pitchers will start to appear.
June: Full display of pitchers. This plant will look its best!
July-August: Plant will slow down when it's hot. Some minor spotting.
September-October: Dormancy begins. Fewer pitchers. No new growth until spring.
November-December: Plant is dormant. Browned pitchers are cut off.